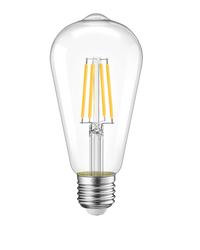 QPlus ST19 Filament LED Light Bulb E26, Dimmable, 7 Watts, Edison Style, 25000 Hours, Energy Star and cULus Listed, 3 Year Warranty
1 Pack ($8.49 per unit)
2 Pack ($7.99 per unit)
4 Pack ($7.49 per unit)
8 Pack ($7.29 per unit)
16 Pack ($6.99 per unit)
32 Pack ($6.79 per unit)
50 Pack ($6.59 per unit)
100 Pack ($6.49 per unit)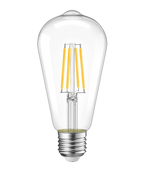 QPlus ST19 Filament LED Light Bulb E26, Dimmable, 7 Watts, Edison Style, 25000 Hours, Energy Star and cULus Listed, 3 Year Warranty
-
3000K / 1 Pack ($8.49 per unit)
/count/ sold in last /time/ hours
Ask a Question
DIMMABLE: Adjust the brightness to fit any setting with this E26 LED Bulb. Use with a Leviton or Lutron dimmer switch for optimal results.

ENERGY EFFICIENT: Manufactured to last with energy-saving LED filaments, this LED filament bulb only uses 7 watts (800 Lumens) of power and keeps more money in your pocket!

BEST USE: Our Edison lights feature a standard-sized base which are suited for most lighting applications, both indoors and outdoors.

STYLE: Edison-style, exposed LED filaments give off a classic, throwback look and emits a soft, warm glow.