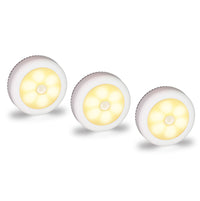 QPlus Motion Sensor Wireless Night Lights - Battery Powered 3000K
1 Pack (3 Pack $16.99 and 6 Pack $27.99 per unit)
2 Pack (3 Pack $14.99 and 6 Pack $26.99 per unit)
4 Pack (3 Pack $12.99 and 6 Pack $24.99 per unit)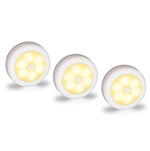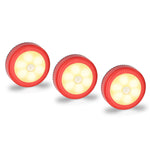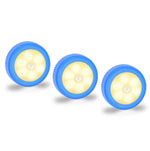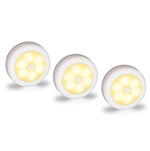 QPlus Motion Sensor Wireless Night Lights - Battery Powered 3000K
-
1 Pack (3 Pack $16.99 and 6 Pack $27.99 per unit) / 3-piece set / White
Ask a Question
QPLUS Motion Sensor Lights act like little "guardians", providing an automated, hands-free way to protect your homes indoors and outdoors. Light up your bedroom, stairs, hallway, closet, or entryway to your home where the light switch is just too far from the door. Don't leave lights on needlessly running up the electric bill. 
Features
:
Super-bright LED Bulbs - Astonishing 30 Lumen output, super bright SMD 2835 LED; bright enough to make sure you never stumble in the dark

PIR Motion & Light Sensor - Auto-on within 10 feet, auto-off after 30 seconds of no motion detected helps prolong battery life. It will turn on only when it is dark and when motion is detected

Easy Installation - Simple to install, no hard-wiring. With 3M adhesive pads, you can stick on anywhere you like. Package includes screws for installation in case you want to hang the lights.

Battery Operated - Powered by 3 x AAA batteries (not included) for easy installation. To provide you with illumination in areas that have limited or no access to electricity

Lightweight & Portable Design - Circle shaped and compact sized make it an ideal night light for your bedroom, bathroom, stairs, hallway, kitchen, closet, etc.

3 Years Warranty & 25,000 Hours lifetime
Instructions:
Note:

1. Please make sure that the anode and cathode of battery has been installed correctly.

2. Please do not install two lights too close from each other. The lighting may cause the other one DOES NOT work.

3. If you use Alkaline battery first and then change to zinc-manganese dry battery, the lights might not work as the zinc-manganese dry battery is shorter than the Alkaline battery.

4. The sensor light might not work if you use the infrared heater in winter. The infrared will cause failure of the sensor. However, the light will get back to work in 30 minutes after turning off the heater. Product size: 72*22mm

After installing the batteries, light turns on automatically when the environment brightness is lower than 2-3lux and movement is detected. If no movement is detected for more than 30 seconds, it automatically turns off. If environment brightness is higher than 2-3 lux, light will not turn off even if movement is detected.