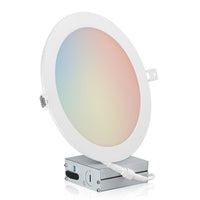 QPlus 8 Inch LED Recessed Slim Pot light with the Metal Junction Box, 18W, 14000LM, 4CS(3000K/4000K/5000K/6500K/SWITCH), Dimmable, Energy Star Certified, ETL Listed, IC-Rated, Wet Rated, 5 Year Warranty
1 Pack ($33.99 per unit)
4 Pack ($33.49 per unit)
8 Pack ($32.99 per unit)
16 Pack ($32.49 per unit)
24 Pack ($31.99 per unit)
48 Pack ($31.49 per unit)
60 Pack ($29.99 per unit)
72 Pack ($29.49 per unit)
100 Pack ($28.99 per unit)
200 Pack ($28.49 per unit)
QPlus 8 Inch LED Recessed Slim Pot light with the Metal Junction Box, 18W, 14000LM, 4CS(3000K/4000K/5000K/6500K/SWITCH), Dimmable, Energy Star Certified, ETL Listed, IC-Rated, Wet Rated, 5 Year Warranty
-
1 Pack ($33.99 per unit)
Ask a Question
QPLUS 8 Inch Slim Panel Recessed Adjustable Multi Color Temperature LED Pot Light (Changeable Color Temperature By The Wall Switch)
Description
QPLUS 4CS CCT changing 8 Inch 18W (=150W) Slim Recessed LED Pot Lights is Energy Star Certified, cETLus listed, and Type IC rated. Change the color effortlessly to 3000K, 4000K, 5000K, or 6500K with just a flick of your regular wall switch by setting the junction box switch to "Switch" Mode. If you don't want to control by regular wall switch, set to either 3000K, 4000K, 5000K, or 6500K in junction box switch. This dimmable pot light would compliment any interior and is suitable for use in damp locations. Utilizing the latest LED technology, this highly energy-efficient Pot Light produces astonishing 1400 lumens with just 18W equivalent to a traditional 150W. This easy-to-install, ultra-thin recessed led light has a lifespan of 50000 hours and comes with a 5-year warranty.
CCT Switch in Junction Box: set to 3000K or 4000K or 5000K or 6500K in the junction box or Light Switch to change the temperature using a regular wall switch

HIGH-QUALITY LENS: no yellow shade over time.

ENERGY SAVING: 18W serves as a 150W equivalent.

LONG LIFESPAN: up to 50,000 hours or over 22 years.

CERTIFIED: ENERGY STAR certified + ETL listed; certified airtight per ASTM E283-04.


Specifications
| | |
| --- | --- |
| Wattage | 18 Watts |
| Voltage | 120V |
| Brightness | 1400 Lumens |
| Life Hours | 50000 Hours |
| Dimmable | Yes |
| Safe for Damp Location | Yes |
| Type IC Rated | Yes |
| Airtight | Yes |
| CRI > | 80 |
| PF > | 0.9 |
How to set up the 4CS Multi-Color Temperature LED Pot Lights
NOTE: QPLUS recommends having a licensed electrician do the setting up, wiring, synchronizing the color temperatures, and any troubleshooting upon installation

.
1. Maximum Number Of Lights Per Switch
Determine the number of lights to be used in a room. Switches can normally handle 5-6 lights, but we highly suggest that you check with your electrician to confirm the safest maximum number of lights that can be controlled by your specific switch.
2. Fixed or Changeable Color Temperatures
Before installing your lights, choose whether you want to have a fixed or changeable color temperature. You can have it fixed with either 3000K/4000K/5000K/6500K by setting it up on your junction box, or have the access to change it anytime by choosing "Light Switch" on your junction box and choosing your preferred color temperature using your regular switch.

NOTE: Ensure that all your junction boxes are identically set to your preferred settings (3000K/4000K/5000K/ 6500K/LightSwitch)
3. Synchronizing Lights' Color Temperatures
By choosing a fixed color temperature on your junction box, your lights will light up according to your settings. If you chose "Light Switch" on the CCT Switch, each light will be on a different color temperature the first time you light them up, so you will need to do a one-time setup to synchronize all the lights to one color temperature.

TROUBLESHOOTING: Repeat if necessary. Contact a licensed electrician to make sure the wiring and settings of your lights are correct.

Bedroom
Using high-quality LED chips, up to 1400LM, illuminate every place in your house. High color rendering effectively shows true colors, to protect your eyes against the irritation by the high-light

Dining Room
Flexibly adjust the brightness from 100% to 10%. Even in the dark midnight, change to the lowest light without any flicker and noise. More energy-efficient.

Living Room

This recessed light's high-quality standards and safe operation are assured, even in a variety of workplaces that are used for a long time.
Features

Dimmable

What's in the box