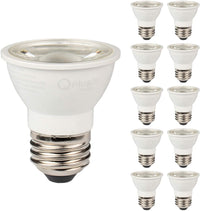 QPlus PAR16 LED Light Bulbs SIM COB Short Neck Ceiling Bulbs
1 Pack ($4.99 per unit)
2 Pack ($4.49 per unit)
4 Pack ($3.99 per unit)
8 Pack ($3.89 per unit)
16 Pack ($3.79 per unit)
32 Pack ($3.69 per unit)
50 Pack ($3.59 per unit)
100 Pack ($3.49 per unit)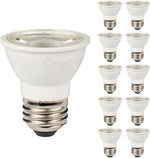 QPlus PAR16 LED Light Bulbs SIM COB Short Neck Ceiling Bulbs
-
5000K / 1 Pack ($4.99 per unit)
Ask a Question
Energy Saving LED - 7W serve as a 50W equivalent, up to 85% energy saving comparable to halogen/incandescent light

Certified - ENERGY STAR certified + cULus listed, safe and trust worthy quality

Efficient - producing 500 lumens at 40 degree beam angle


Long Lasting Life - lasts up to 25,000 hours or over 22.1 years (based on use of 3 hours per day)

Suitable for damp locations; 3 Year Warranty; Easy to Install with E26 medium screw base
QPLUS Parabolic aluminized reflector (PAR) 16 bulbs control light more precisely. They produce about four times the concentrated light intensity of general service A shape incandescent and are used in recessed and track lighting.

No more wasting time, money and energy - thanks to Qplus LED solutions. QPLUS 3000K (Bright White) / 5000K (Day Light) dimmable 7W PAR16 LED bulbs offer everything that a traditional halogen bulb provides at a significantly lower wattage and producing less heat. This energy efficient LED bulb operates at a meager 7 watts while delivering a light output equivalent to 50W halogen LED PAR16 (2 Inch Diameter) bulbs. QPLUS PAR16 bulbs produce 40 degree beam angle and are bright white with 3000K or day light with 5000K color temperature producing astonishing 500 lumens brightness.

Save energy with these lights with estimated cost of $0.84 per year ( based on use of 3 hrs/day). These PAR16 bulbs are dimmable with most dimmers. We recommend QPLUS dimmer switches for full range smooth dimming for LED bulbs. These QPLUS PAR16 bulbs come at standard size of 59mm height x 50mm diameter (at widest point) to ensure fit in most light fixtures.

QPLUS PAR16 LED lights are cULus Listed as required by Electrical Safety Authority in Canada. Don't take chances by using non-certified products. All QPLUS LED lights and bulbs are Energy Star Certified.

QPLUS PAR16 LED bulbs are suitable for wide range of applications - Residential, Commercial and Industrial use. As they are suitable for use in damp locations. With wide operating temperature range of -25C to 40C (-13F to 104F), QPLUS PAR16 LED lights can be used almost in all locations like hotels, offices, restaurants, bathrooms, bedrooms, living Rooms, family Rooms, dining Rooms, kitchens and schools.

The manufacturer of these lights is the same factory that provide solutions for Sylvania, Philips, GE and other popular brands. You can trust QPLUS quality for all your lighting needs.